Regular price
Sale price
$25.00
Unit price
per
Sale
Sold out
Beautiful throw in pure washed linen, can be used as a plaid, table runner or beach towel. It is soft and super absorbent.
shipping

Shipping within 2 working days (excluding pre orders)

Shipping is never free and at elbarud, we don't like dubious promotions, so we simply always share shipping costs equally ! A small step for you, a small step for us, but a big step towards a more sustainable consumption!
technical characteristics

dimensions: 110 x 180cm

composition: 100% linen
care

All our linen products are washing machine safe or can be dry cleaned.

For best results, please follow below instructions:
- unfold your linen products before wash
- don't over load your washer
- wash at 40°C max
- use soft detergent and avoid all chlorine chemicals
- dry on a drying rack (better for the linen and the planet !)
- if you use a dryer, avoid high temperature or intensive programs
- iron with steam while the linen is still slithgly damp (preferable on the insed)
share
View full details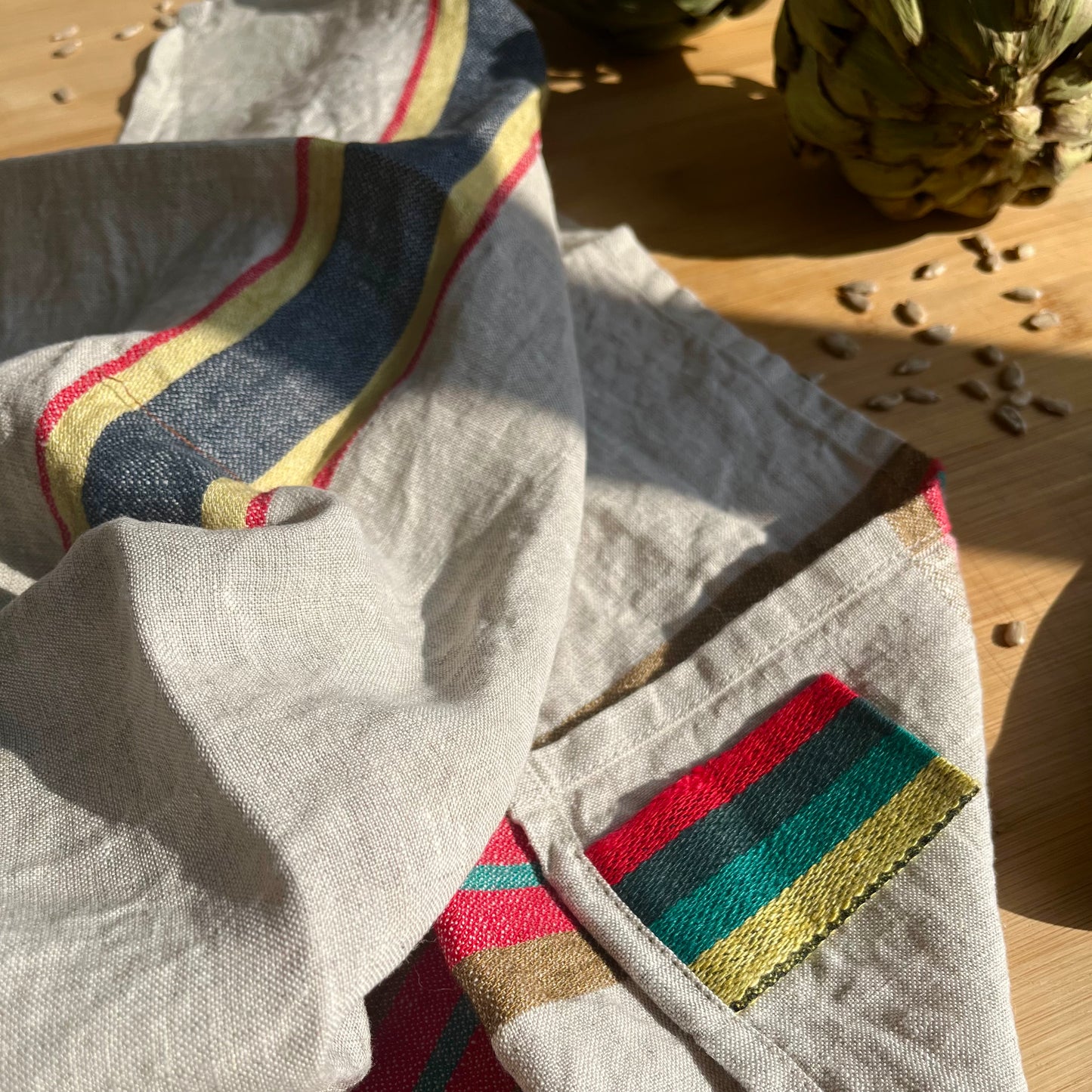 why is this product sustainable?
composition

100% European linen. A natural material, very resistant and thermoregulating.

Linen is one of the most ecological fibers as its culture demands very little water and no pesticide!

production location

This product is manufactured in Belgium.

Libeco is MASTER OF LINEN certified, which guarantees that a finished linen good is 100% made in Europe, from flax to finishing touches and through transformation.

Indeed, it's important to highlight, as if linen mainly grows in Europe, 90% of its cultivation is sent to China to be spinned, weaved and assembled.

manufacturing

This product is made industrially. However, green electricity, LED lighting, solar panels, a more environmentally friendly car fleet and optimization of waste processing are just a few of the measures that are implemented in the production process.

Emissions that cannot be reduced in the short term are offset annually by supporting an international climate project.

Since 2014, Libeco is certified as a CO2neutral company.

economical & social impact

Linen contributes to maintain an economical and social fabric in rural area. Its cultivation and its first transformation mobilises an important and non outsourcable labour.

packing & transport

For now, Libeco hasn't taken any specific action on this, an area for improvement!

end of life

Like other natural textile fibers, cotton is easily recycled when it's not mixed with other materials.
Who hides behind this product?
it's in 1858, in Flandre, that Libeco's story began. Since now 5 generations, the Libeert family creates collections of high end, 100% european flax, household linen.

Linen is one of the most ecological fibers in the world and at Libeco, doing business sustainably has always been a core value. These last years, new significative progress has been made with the company being certified carbon neutral. Doing business sunstanably for a viable future, here is Libeco's vision.