Regular price
Sale price
$59.00
Unit price
per
Sale
Sold out
Offer a second life to wine bottles with these original tumblers!
shipping

Shipping within 2 working days (excluding pre orders)

Shipping is never free and at elbarud, we don't like dubious promotions, so we simply always share shipping costs equally ! A small step for you, a small step for us, but a big step towards a more sustainable consumption!
technical characteristics

dimensions: ø 7,5 cm - h 9 cm

composition: 100% upcycled glass

Each piece is unique. Small variations in colour or dimension can exist because this product is handmade.
care

Dishwasher safe. No microwave.
To avoid limestone residue on your glasses:
- Dose salt, rinse aid and dishwashing detergent separately according to the hardness of the water
- Use coarse salt in your silk, as fine salt can accumulate in the machine and make it harder to dose the amount of salt correctly
- Wash at a temperature no greater than 40° C
- Select the machine's shortest program
- As soon as the washing programme is finished, turn off the stream
- If possible dry your glasses with a tea towel
- Do not place glass with top down in the cabinet, as excess moisture from dishes can cause limescale deposits
share
View full details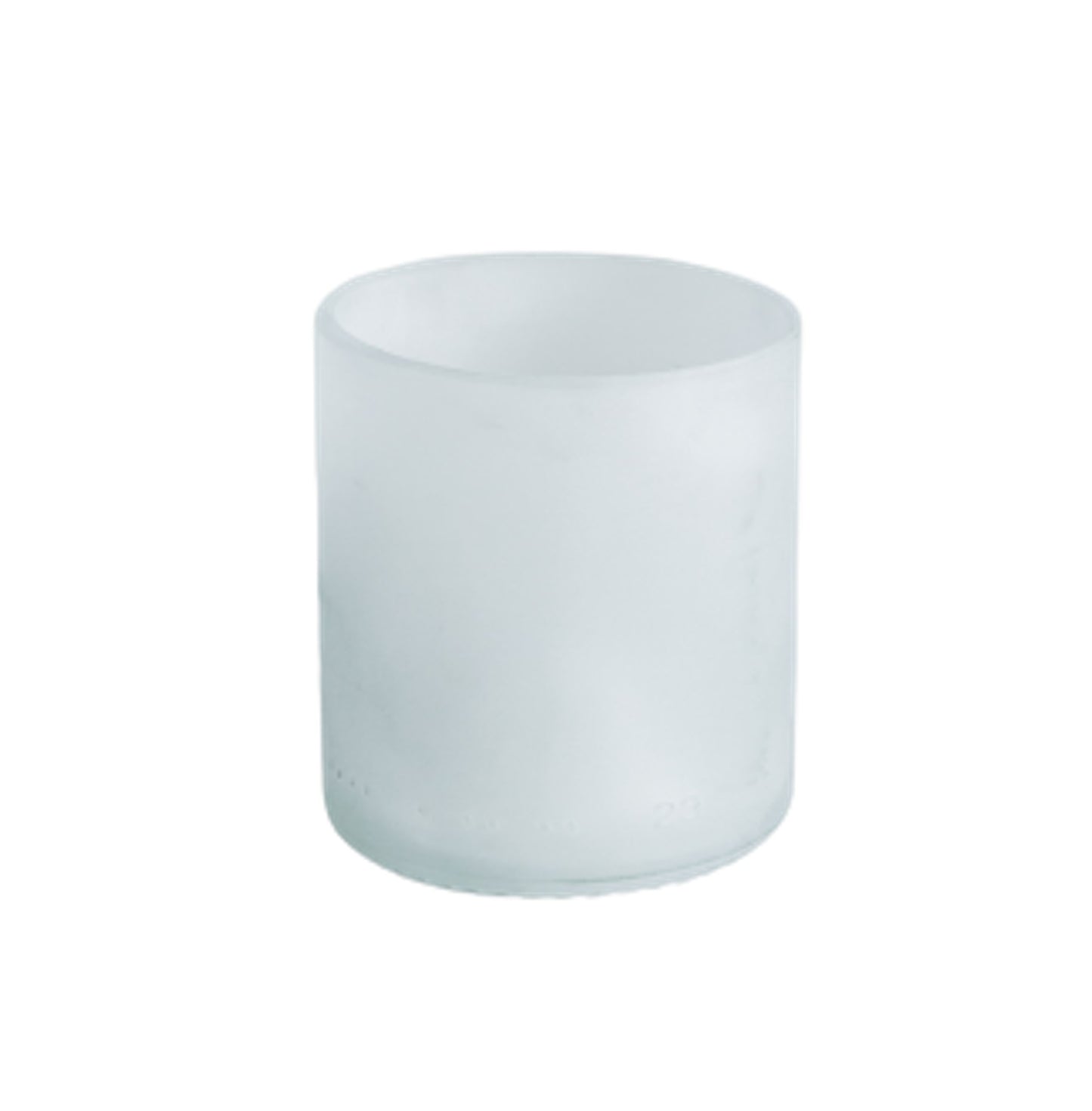 why is this product sustainable?
composition

100% upcycled wine bottles.
95% of bottles are collected less than 50km away from the workshop.

production location

CULO sat up home in Aubian vineyard in Cuxac-d'Aude, near Narbonne, where all production steps are realised. What better place for its workshop than the origines of its products?

manufacturing

All items are handmade: from glass cutting to felt wheel finishing and through cork wheel & pumice stone powder sanding and polishing.

economical & social impact

For logistics, CULO works with Paule Montalt ESAT that employs workers with disabilities.

packing & transport

Packagings are made from recycled materials less than 100km from the brand's workshop. Recycled cardboard and silk paper are used to wedge products in place and kraft tape with natural rubber adhesive seals the boxes!

end of life

Glass is a fantastic material. It is at once fragile and at the same time incredibly strong. If you take care of it, the end of its life should be far away!
In case of breakage, glass can be recycled, as its original wine bottle, to make a new object!
Who hides behind this product?
Founded by Margaux in 2020, CULO is a young involved French brand, with its own secret ingredient... a southern accent! In its eco-friendly decoration and tableware universe, CULO make every creation artisanaly from glass bottles (mainly wine and champagne) that were destined to be thrown away.

CULO represents the will to act for a serious cause without taking themselves too seriously! A lively, frenchy, fuss free mindset!